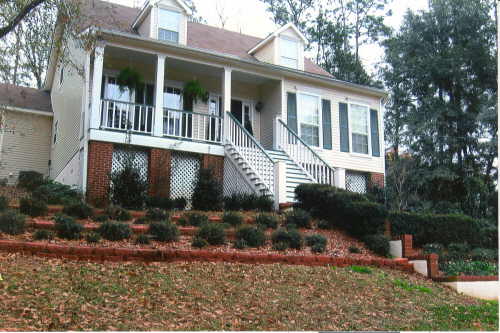 The "Yard of the Month" has been awarded to Jerry and Bebe Busby at 649 Ridgewood Dr. The Busby's moved to Lake Forest last year from Fairhope.
The impressive landscape is the result of Bebe's knowledge, (a farm girl) expertise and efforts. She is a second generation nursery and plant shop owner in her family. Her specialty has been asparagus ferns offered to shops and the public.
The backyard that extends to the Lake Forest Golf course has been beautifully designed by Jerry and Bebe. A graceful curved stone wall provides an area where pansies, encore azaleas, dwarf crepe myrtles and buddleia thrive. A rippling little rock fountain flows down amidst the flowers.
The entrance from the east is provided by a wrought-iron trellis arbor that supports wisteria. Near the deck are blue-ice cedar, fatsia and sweet olives that provide both beauty and fragrance. Sounds of a chirping wren can be heard from bird feeders surrounded by holly and rose bushes. Beautiful pink and yellow sasanqua and paperwhites are found blooming at the rear edge of the yard and they can be admired by golfers as well as the Busby family.
Looking at the terraced front yard you will see planter boxes that contain well groomed yaupons and compact hollies. Liriope, pansies and a pyracantha bush with many beautiful red berries complete an impressive display at this lovely residence.